Radio Free Asia: 16 July 2018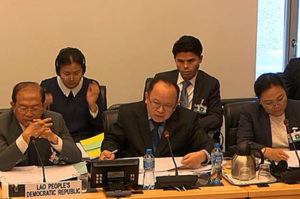 Lao government representatives evaded tough questioning at a U.N. review of the country's rights record last week, speaking to points that had not been raised and saying that villagers arrested for refusing to leave confiscated land had sought to block the country's development.
Meeting in Geneva, Switzerland, from July 11 to 12, the U.N. Human Rights Committee (CCPR) examined for the first time the state of civil and political rights in communist Laos. The committee tracks the compliance of state signatories to the International Covenant on Civil and Political Rights.
Laos became a state party to the Covenant in 2009.
Addressing the disappearance of Sombath Somphone, an agricultural expert who vanished at a police checkpoint outside the Lao capital Vientiane in 2012, Lao delegate Bounkeut Sangsomsak refused to answer detailed questions from the Committee concerning government efforts to find the missing civil society leader. Continue reading "Lao Delegation Ducks Questions at UN Rights Review"